The Former East/West Germany Barrier Now a Nature Reserve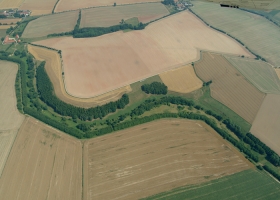 After the second world war, Germany was divided into east and west. Between the two, the communist masters of East Germany erected an imposing barrier along the 870 border to keep people both in and out. But rather being a single fence or wall, the barrier was also a wide strip outfitted with minefields, bunkers, watch towers, and sand pits. Now that Germany has been reunited, this strip of land running 870 miles along the old border is a long, continuous, undeveloped property. In the end, the Soviets had not built a barrier, but a nature preserve.
Over twenty years after the fall of the Berlin Wall, the former "Death Strip" where so many people died trying to flee to the freer West Germany, has taken on a new meaning. It is uniquely valuable because it runs the entire length of Germany, and acts as a wildlife corridor. While most of German ecosystems are squeezed by agriculture, roadways, and cities, the strip has remained undeveloped for over 60 years. It is teeming with European otter, storks, frogs, eagles, and many other endangered and non-endangered wildlife.
"There is no other area in Germany that has been largely undisturbed for such a long time," says Dieter Leupold, a biologist with the German branch of Friends of the Earth. After the Berlin Wall came down, Friends of the Earth in Bavaria petitioned for a "Green Belt" project. They declared it the "ecological backbone of Central Europe." They also fought for other stretches of wildlife through Germany.
Now, the Federal Agency for Nature Conservation has established over 20 large protected areas along the old East/West German border. Some groups have even suggests stretching the green belt the entire length of the old Iron Curtain, from Finland to the Black Sea.
However, when the Berlin Wall fell, many just wanted to develop this new land to erase the stigma of the "Death Strip." Farmers wanted to expand their agriculture, and people wanted to develop cities and roads to connect the united Germany. Keeping the strip of land wild required a serious effort on the part of conservationists. So they sent teams of scientists, such as ornithologists, botanists, and entomologists to inventory the ecosystem and document its value. They found over 1,000 species identified as endangered on Germany's Red List. These findings enabled the establishment of green zones along the border.
Friends of the Earth is still working to expand on the Green strip. More nature preserves have been established in connection to it in an attempt to create a wildlife network throughout Germany. In the event that a farm has encroached onto the strip, the group has worked around it, simply diverting the corridor from the former East/West line. The wildlife does not care about old political borders anyway.
For more information: http://www.europeangreenbelt.org/indoor.html