Tigers could reappear in Kazakhstan under new plan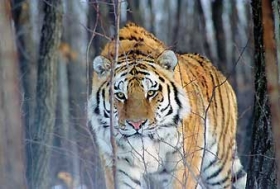 WWF-Russia, together with the government and experts of the Republic of Kazakhstan announced today a new programme to return tigers to the region.
The plan seeks to relocate Amur tigers from the Russian Far East to suitable habitat in Kazakhstan near the delta of the Ili River, south of Balkhash Lake.
A recent study has shown the tigers from both the Caspian and Amur regions are genetically identical so the translocation of tigers between these areas is a suitable option. The tigers of the Caspian region, which includes Kazakhstan, went extinct because of poaching and habitat loss, but both these threats are now starting to be adequately addressed.
The Caspian or Turan tiger (panthera tigris virgata) was last recorded in the wild in the early 1970s, and there none in captivity, according to the International Union for Conservation of Nature and Natural Resources' (IUCN) Red List.
In March 2011, the Prime Minister of Kazakhstan Karim Masimov underlined his interest in developing the tiger restoration programme in a meeting with WWF-Russia Director Igor Chestin and WWF Central Asia Programme Head Olga Pereladova.
"We have agreed that WWF and the Ministry of Environment in Kazakhstan will draw up a comprehensive programme to reintroduce the tiger in the area around Lake Balkhash", said Chestin. "With a strong plan and proper protections in place, tigers can again roam the forests and landscapes of Central Asia."
Article continues: http://wwf.panda.org/?uNewsID=200017