Is that Pashmina cloned?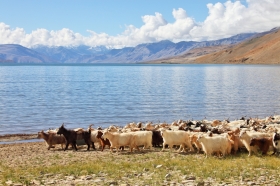 The successful cloning of the unique but dwindling 'pashmina' goat, prized for its fine wool, has encouraged veterinary scientists to use similar methods to conserve other endangered animal species native to Himalayan Kashmir.
When a team of veterinary scientists from the centre for animal biotechnology at the Sher-e-Kashmir University of Agriculture Science and Technology (SKUAST), Srinagar, cloned the pashmina goat, last month (March), it revived hopes for saving a species whose numbers have been declining.
The breakthrough is expected to benefit the US$ 85 million shawl industry that depends on the availability of the exceptionally fine wool produced by the rare animal.
"The expertise developed in cloning the pashmina goat has paved the way for undertaking in-vitro fertilization and assisted reproduction techniques in other endangered species, particularly the antlered red deer (Cervus elaphus hanglu), commonly known as the hangul," Khursheed Ahmad, wildlife management scientist at SKUAST, told SciDev.Net.
"This is a major breakthrough for us," said Riaz Ahmad Shah, associate professor at SKUAST and head of the World Bank-funded project. "The birth of Noori (the pashmina goat clone) marks the future of research in transgenic animal production, stem cell research and selective multiplication of endangered animal species," he said.
Pashmina goat herd via Shutterstock.
Article continues at ENN Affiliate SciDevNet.