Why Are Alaska Polar Bears Losing Their Fur?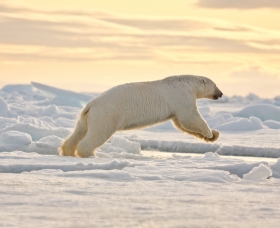 Scientists are trying to determine why some polar bears in Alaska are suffering from fur loss and skin lesions, and whether the phenomenon is related to a disease that has been killing seals in the region.
According to United States Geological Survey (USGS) chief biologist Tony DeGange, scientists examined 33 bears during routine field studies in the southern Beaufort Sea region near Barrow in late March and early April; of those, nine had fur loss, or alopecia, and other skin lesions. DeGange says that, while it is not atypical to find some bears with those symptoms, it is unusual to discover the ailments in so many in such a short time.
"The first day we observed it was on March 21st and we had three captures and two of them had alopecia, and so it was like, 'Oh that's interesting,'" he told the Alaska Public Radio Network. "Then we started picking it up on other animals in later March so it was like, this is more than normal."
Biologists collected blood and tissues from the affected bears to try and determine if the symptoms are related to a mysterious illness that has been found in seals and walruses. That disease was first noticed last summer, when 60 seals were found dead and another 75 diseased. Most of the affected animals were ringed seals, which are polar bears' primary prey; but ribbon, bearded, and spotted seals were also stricken.
Article continues at Discovery News
Polar Bear image via Shutterstock