Bike Nation to Make Four Thousand Bicycles Available For Use By Los Angeles Commuters and Visitors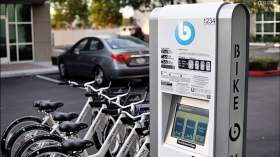 April 15, 2012 (Los Angeles, CA) – At the CicLAvia event in downtown Los Angeles today, Los Angeles Mayor Antonio Villaraigosa announced plans for a bike sharing demonstration project in the City. In the spirit of Mayor Villaraigosa's invitation for "Angelenos to get out of their cars and on to the streets," Bike Nation, the only Southern California-based bike share company, plans to install 400 kiosks with a total of 4,000 bikes throughout the City of Los Angeles, with the first kiosks expected to be in operation during the fourth quarter of 2012.
"Bike share programs have proven successful in urban areas around the world and in major cities in the United States," stated Navin Narang, Founder, Bike Nation. "We are excited to work with the City of Los Angeles to implement this demonstration project and provide healthy, low-cost transit options and connectivity between transit connections, business centers and regional destinations."

The bicycle sharing demonstration will be a service in which bicycles are made available for public use and are checked-out and returned to self service kiosks. The usage fees for the bicycle share system are incentivized for turnover and trips of less than 30 minutes in duration. Bike Nation will create a system that is safe, efficient and dependable and will provide well-trained, supervised staff and maintenance crew to operate the system.

"In addition to this added connectivity, this bike sharing demonstration project will be located where people live, work and visit, helping reduce the carbon footprint and promoting a healthy alternative for Los Angeles area residents and commuters," said Narang. "Bike Nation has always made manufacturing and assembling our product in the United States one of our top priorities, with the bike assembly plant located in the City of Los Angeles."

This initial launch in Los Angeles is a private venture investment of over sixteen million dollars by Bike Nation, with no public funds being provided by the city. Bike Nation will incur the installation costs and on-going maintenance expenses for these stations. Bike Nation intends to grow this system as demand increases over the next ten years.

At CicLAvia today, Bike Nation provided 100 complimentary Bike Nation bicycles for use at the event. Renters were able to reserve bicycles for the event and pick them up at the MacArthur Park Hub or at the El Pueblo Hub and use them for an hour and a half.
For more information: http://www.bikenationusa.com/
Image credit: Bike Nation