Ford to EV Dealers: Meet Environmental Requirements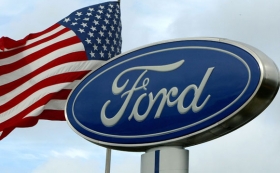 An environmentally friendly car dealership? Like "responsible drinking," or "Walmart organic food," that term at first may sound like an oxymoron. Ford Motor, however, is not only rolling out new electric vehicles (EVs), but has committed to greening its entire supply chain. This is just one example of the changes Detroit is undergoing as the Big Three rack up impressive quarterly numbers. For now, EVs are only a small part of the auto industry's resurgence as they slowly win acceptance from skeptical commuters. To that end, Ford is requiring its dealerships selling EVs to resemble businesses that would sell...EVs.
So far 67 dealers are certified to sell the 2012 Focus Electric. The current locations are all in California, New Jersey and New York, states that already are home to a sizable percentage of electric cars. Those dealers will start selling the Focus Electric when Ford releases the new model later this spring. As many as 19 more markets will sell the vehicle by the end of this summer. Meanwhile, Ford dealerships selling the EVs have got to meet a certain set of guidelines set by the company's Dearborn headquarters, and more are scrambling to do so because the Focus Electric will be available for sale nationwide by the end of this year.
Ford certification for dealers selling the Focus Electric and other models in Ford's product offering mandates that such businesses install a minimum of two onsite electric charging stations. Those same dealers must also participate in a Ford assessment program that identifies energy efficiency opportunities, ways to lower operating expenses and suggests initiatives that will lower overall carbon emissions.
Each dealership must also staff employees who are well trained and knowledgable about electric vehicles. Ford insists that 80 percent of each dealership's jobs in sales and service be staffed by workers who complete an intense EV training certification programs. And for anyone who has walked into an automobile dealership interested in electric cars but exasperated that they cannot even find one to test drive, let alone touch, that will change because Ford is requiring dealerships to have at least one Focus Electric available for demonstrations and events.
Article continues at ENN affiliate, Triple Pundit
Image credit: http://www.autoblog.com/2009/04/22/report-ford-offering-dealerships-for-1/