Paper or Plastic?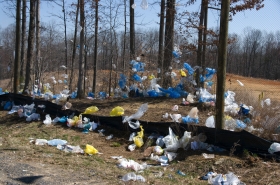 Cities in a number of Asian countries, including China, Hong Kong, India, Indonesia, Nepal, Pakistan, the Philippines, Singapore and Taiwan, are currently on the warpath against plastic shopping bags.
The cities have passed local laws that ban such bags, on the basis that they clog sewers and drainage canals, cause street flooding, choke animals and are responsible for other forms of environmental damage.
China and Taiwan, for example, impose heavy fines on violators. Other countries are appealing for a switch to the production and use of biodegradable bags.
But this misses the point. People do not object to using biodegradable bags, and consider them a welcome return to the traditional practice of using shopping baskets and bags made from locally available materials — such as jute, abaca and cloth — that are less harmful to the environment.
What needs to be remembered is that plastic bags were made for a purpose, and that the main complaint is against the way that they are used — not their existence.
Plastic bags were designed to satisfy a need. Thin plastic can do many things that paper, which is recommended as a good substitute for plastic, cannot. Indeed, there are ways in which thin plastic may be more useful than paper.
For example, plastic bags are widely appreciated for their use in wrapping food, and holding water and other wet goods. They are also useful as a protective lining for rubbish bins, as a protective wrap for delicate clothing material, or as a way of temporarily sealing roof and tap leaks.
Plastic bags via Shutterstock.
Article continues at ENN Affiliate SciDevNet.