Did Deepwater Horizon Accident contribute to Dolphin Deaths?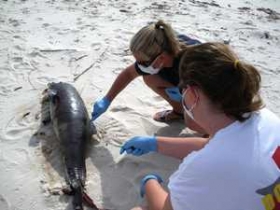 In the first four months of 2011, 186 bottlenose dolphins (Tursiops truncatus) were found dead in the Gulf of Mexico, nearly half of them dolphin calves many of whom were perinatal, or near birth. Researchers now believe a number of factors may have killed the animals. Writing in the open-access journal PLoS ONE, scientists theorize that the dolphins died a sudden influx of freshwater from snowmelt after being stressed and weakened by an abnormally cold winter and the impacts of the BP oil spill.
According to researchers, oil leaking from the BP-leased Deepwater Horizon could have decimated the dolphin's prey base, leaving a larger than usual number of dolphins suffering from malnutrition.
"Declines in planktivorous fishes over the shelf in summer and fall 2010 and evidence of genetic and physiological impairment of nearshore fishes support the hypothesis that bottlenose dolphins' forage base may have been reduced," the scientists write.
An harsh winter along the Gulf likely worsened matters. Then came high volumes of freshwater snowmelt into the Gulf of Mexico, which was the last straw for many dolphins and their calves, according to the paper.
Photo credit: http://skydancingblog.com
Read more at ENN Affiliate, MongaBay.