What Caused the Significant Fish Mortality in Lake Erie?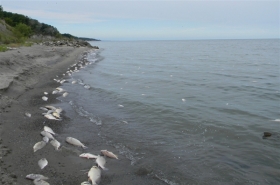 Tens of thousands of dead fish that washed up on Lake Erie beaches in Ontario, Canada -- and had locals wondering if something or someone had poisoned the water -- were likely killed by a lack of oxygen caused when lake sediment was stirred up, the province reported Friday.
Water samples "do not show evidence of a manure spill or anything unusual in terms of contaminants," Ministry of Environment spokeswoman Kate Jordan told NBC News.
Jordan said it wasn't known if the die-off was unprecedented, but that "it was a significant number -- tens of thousands."
The fish were found along 25 miles of beach, with locals first coming across them on Monday.
But three days earlier, residents had complained of a manure-like smell from the water, the Chatham Daily News reported.
"It was rank, so profoundly rank, that it was difficult to stay down there and the next morning we woke up to the smell," Neville Knowles said of his family's weekend trip to Rondeau Provincial Park.
Another park visitor, Frank van den Boorn, said he and his family were at the beach when he noticed the darkened water and smelled something wrong.
Dead Fish on Lake Erie shore courtesy of Ontario Ministry of Environment.
Read more at NBC News.