Endangered whale dies after getting stranded on NYC beach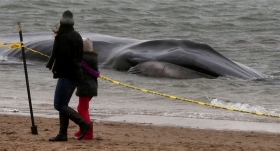 An emaciated 60-foot finback whale that washed up on a coastal community devastated by Superstorm Sandy has died, marine officials said Thursday.
The whale was found beached Wednesday in Breezy Point, Queens, where 126 homes burned down and more than 2,000 were damaged during the Oct. 29 storm. It was carried out at high tide but washed ashore another time on Thursday, and marine officials said they found it dead, according to media reports.
"Biologists have confirmed that the whale has died," Mendy Garron, a marine mammal rescue specialist with the National Oceanic and Atmospheric Administration, told Reuters. "Plans are currently being developed for necropsy and disposal of the carcass."
Finback whales are an endangered species. They are second in size only to the blue whale, and can reach up to 70 feet in length and weigh up to 70 tons. The whales migrate to equatorial waters in the fall and during winter, they mostly fast, surviving on their fat reserves. Winter is also when they mate, and calves are born one year later, according to the New York State Department of Environmental Conservation.
It is one of the fastest large whales and can stay underwater for up to 50 minutes on one breath.
Tim Dufficy, 26, a member of the Point Breeze Volunteer Fire Department, said the firehouse was contacted by security in the private cooperative about the animal. He and a few other volunteers took some new equipment, such as a portable pump and a special hose, that they'd gotten in the aftermath of the storm to keep water flowing on the whale during low tide since it was mostly out of the water.
"Everyone was hoping," he told NBC News. "But ... we knew the prospects were grim."
Article continues at MSNBC.com
Image credit: Mario Tama / Getty Images