Sri Lanka to give poached ivory to Buddhist temple, flouting international agreements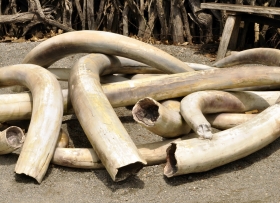 The Sri Lankan government is planning to give 359 elephant tusks to a Buddhist temple, a move that critics say is flouting the Convention on International Trade in Endangered Species (CITES). The illegal tusks were seized in Sri Lanka last May en route to Dubai from Kenya; they are believed to stem from hundreds of butchered elephants, including juveniles, inside Africa, possibly Uganda. The decision comes after a high-profile National Geographic article, Ivory Worship, outlined how demand for ivory religious handicrafts, particularly by Catholics and Buddhists, is worsening the current poaching crisis. In 2011, it was estimated that 25,000 elephants were illegally slaughtered for their tusks.
"I don't believe that Sri Lankan's who revere elephants would ever condone the brutal killing of elephants for ivory, the general public are unaware of the nature in which this ivory was obtained," Manori Gunawardena, an elephant researcher in Sri Lanka told mongabay.com.
Critics say that releasing the ivory to a third party, in this case the Sri Dalada Maligawa Buddhist Temple, violates CITES. In addition, Kenya has demanded that the illegal tusks be returned to them.
"We want the ivory back to undertake DNA profiling to establish its exact origin; to use as exhibit in case of any arrest. The Sri Lanka Government should follow the rules of CITES convention as a party to CITES," Patrick Omondi, the Senior Assistant Director with the Kenyan Wildlife Service (KWS), told mongabay.com. Sri Lanka has been a signatory of CITES since 1979.
Conservationists fear that if the tusks are given to the temple, they could eventually re-enter the black market, driving further demand for a trade that is decimating the world's largest land animal. In fact, Pubudu Weeraratne, head of the Species Conservation Centre recently told the Sunday Leader that he believed the illegal tusks would eventually be sold back to the "legal owner," meaning the smugglers who were moving the ivory to begin with.
"The lengths of these tusks are from 1 ½ feet to 8 feet which clearly shows that the poachers have massacred even the baby elephants," Weeraratne said. "They may have killed a herd of 170 to 200 elephants to obtain these tusks. By gifting this blood ivory to Dalada Maligawa our rulers are trying to bring discredit to this sacred temple."
According to the National Geographic expose, Buddhist and Catholic ivory handicrafts are partly fueling the rising demand for ivory. In response, the Vatican recently condemned elephant poaching as against Catholic values.
Continue reading at MONGABAY.COM.
Ivory tusks image via Shutterstock.