Illegal marijuana cultivation threatens Nigeria's forests and chimps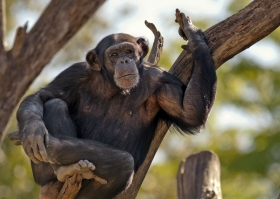 The world's highest deforestation rate, the execution of eight environmental activists including a Nobel Peace Prize nominee, and ongoing turmoil surrounding oil operations in the Niger River Delta has created a notoriously disreputable environmental record for the West African country. Now, a new threat is rising in the already-compromised forests of Nigeria: illegal marijuana cultivation.
Marijuana (Cannabis sativa) is a quick-growing and lucrative cash crop, promising hefty profit margins to growers who sell the buds of this psychotropic plant to black-market buyers. And while the marijuana trade certainly presents legal risks to those involved, it appears to be the risk to biodiversity that is getting high.
In 2012, The Southwest/Niger Delta Forest Project surveyed nine forest reserves to assess populations of the Nigeria-Cameroon chimpanzee (Pan troglodytes ellioti), a chimpanzee subspecies that is considered the most threatened of the four subspecies and is listed as Endangered by the IUCN Red List. During the survey, researchers had a first hand look at the effects of the marijuana boom. Half of the deforestation occurring in these reserves from 2010 to 2012 appeared to be the result of cannabis cultivation.
Concealed within the forest, marijuana growers clear-cut and often burn large patches of land to plant their crop. Because the plants need a full twelve hours of sunlight, the canopy and any competing plants must be removed completely. Habitat is immediately lost and the surrounding forest is weakened by edge-effects and increased foraging pressures from displaced wildlife. Additionally, crops often receive treatments of chemical fertilizers, herbicide, and pesticides, which can have deleterious effects on the surrounding ecosystem.
"Demand for the marijuana product is soaring," Rachel Ikemeh Ashegbofe, Coordinator and Principal Investigator of the The Southwest/Niger Delta Forest Project, told mongabay.com. "Profits from marijuana crops can come in within 6 - 8 months of planting, fetching 2 - 3 times more money than could be gotten from cultivating other food crop ... In an oil-dependent economy, teeming youth will be on the prowl for a means of livelihood."
To address this threat, Ashegbofe calls for state governments and land management departments to crack down on all forms of illegal encroachment of forests by enforcing existing policies and removing officials who are aiding or participating with marijuana growers.
Continue reading at ENN affiliate, MONGABAY.COM.
Chimpanzee image via Shutterstock.