US Forest Service Launches Fall Colors 2013 Campaign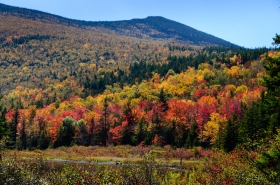 Let's face it- summer is over. While we still might have one or two days over 80 degrees, there's no denying that fall is coming. And the number one way we can tell that fall is coming is by that colorful foliage.
In an effort to get people outdoors and enjoy nature's most colorful season, the U.S. Forest Service has launched its Fall Colors 2013 campaign.
"America's public lands, particularly our national forests, are among the most spectacular venues to view the changes in fall colors," said U.S. Forest Service Chief Tom Tidwell. "The Forest Service offers numerous resources to help you plan your experience. Nature is closer than you may think."
The Forest Service has introduced an online map to help visitors see if and when trees are peaking in their state. The map is shaded in green (not peaking) to bright red (peaking) to brown (past peak). So far, Maine is the only state that has already reached it's peak, according to the map. And currently, New Hampshire is the only state at the stage where the majority of leaves are changing to peak colors. The rest of the states are shaded green, which represents the stage where summer green is beginning to turn.
The US Forest Service also offers another map that helps visitors find a national forest nearest them to enjoy the colors of fall. And if online resources not your thing, the Forest Service also offers a Fall Colors Hotline (1-800-354-4595), which provides audio updates on the best places, dates and routes to take for peak viewing of fall colors on national forests.
Fall colors provide an economic boost to communities across the United States. The New England area alone receives an estimated $8 billion annually in local revenues from fall visitors. In the Midwest, millions of visitors hit the road to enjoy the sights, and in the West, the mountains offer destinations filled with tourists seeking views of shimmering gold aspens.
In addition to the economic boost, activities like enjoying the fall colors support President Obama's America's Great Outdoors and the First Lady's Let's Move Outside! initiatives. America's Great Outdoors seeks to empower Americans to share in the responsibility to conserve, restore and provide better access to our public lands and waters, and leave a healthy and vibrant outdoor legacy for generations to come. Let's Move Outside! is about raising a healthier generation by engaging kids and families in active, outdoor recreation across public lands and waters.
So, moral of the story: when you are planning an adventure this fall, make sure you check out the US Forest Services' resources to help you see the best colors that Mother Nature has to offer!
Read more at the USDA.
See the Fall Colors 2013 Campaign at the US Forest Service.
Forest image via Shutterstock.