Relating the trees in the Amazon to west coast droughts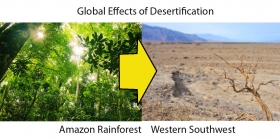 In research meant to highlight how the destruction of the Amazon rainforest could affect climate elsewhere, Princeton University-led researchers report that the total deforestation of the Amazon may significantly reduce rain and snowfall in the western United States, resulting in water and food shortages, and a greater risk of forest fires.
The researchers report that an Amazon stripped bare could mean 20 percent less rain for the coastal Northwest and a 50 percent reduction in the Sierra Nevada snowpack, a crucial source of water for cities and farms in California. Previous research has shown that deforestation will likely produce dry air over the Amazon. Using high-resolution climate simulations, the researchers are the first to find that the atmosphere's normal weather-moving mechanics would create a ripple effect that would move that dry air directly over the western United States from December to February.
Specifically, a denuded Amazon would develop a weather cycle consisting of abnormally dry air in the sun-scorched northern Amazon around the equator weighted by wetter air in the cooler south. Research has speculated that this pattern would be similar to the warm-water climate pattern El Niño, which during the winter months brings heavy precipitation to southern California and the Sierra Nevada region while drying out the Pacific Northwest.
The Princeton-led researchers found that the Amazon pattern would be subject to the same meandering high-altitude winds known as Rossby waves that distribute the El Niño system worldwide from its source over the Pacific Ocean. Rossby waves are instrumental forces in Earth's weather that move east or west across the planet, often capturing the weather of one region — such as chill Arctic air — and transporting it to another. Because the Amazon pattern forms several thousand miles to the southeast from El Niño, the researchers report, the Rossby waves that put the rainy side of El Niño over southern California would instead subject that region to the dry end of the Amazon pattern. The pattern's rainy portion would be over the Pacific Ocean south of Mexico.
First author David Medvigy, an assistant professor of geosciences at Princeton, explained that the findings stand as one possible outcome of Amazon deforestation in regions outside of South America — consequences that scientists are working to understand. The rainforest influences various aspects of the surrounding climate, including cloud coverage, heat absorption and rainfall.
Read more at Princeton University.
Brazilian Rainforest image and Death Valley image via Shutterstock, combined by Robin Blackstone.