Manta Rays get needed protection in Indonesia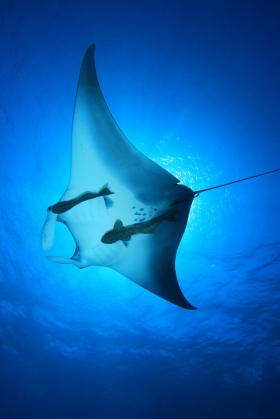 The Government of Indonesia has taken a major step to protect the world's largest ray species, the giant and reef manta rays. Both are now considered protected species under Indonesian law, with fishing and trade prohibited.
In 2013, the two species were included in the list of species regulated under CITES (the Convention on International Trade in Endangered Species of Wild Fauna and Flora). In order to preserve these animals, all 178 CITES countries will have to implement laws and regulations to protect the rays, as well as certain species of sharks.
Although manta rays have faced pressures from the commercial fishing industry in Indonesia, they are also a prized sight by divers, and more important economically to the country's tourism industry. With its magnificent "wingspan" that can exceed 7 meters, a single ray can generate from $100,000 to as much as $1.9 million in dive tourism revenue.
"Manta rays are a huge draw for divers seeking out wildlife encounters along Indonesia's coasts as well as in other parts of the world, such as the Maldives, the Philippines, and Mozambique," said Dr. Caleb McClennen, Director of WCS's Marine Program. "We expect that other governments will now follow Indonesia's lead by capitalizing on the non-extractive value of these fishes and conserving them as a renewable resource for the future."
Manta Ray image via Shutterstock.
Read more at Wildlife Conservation Society.