Thousands Ask Feds to Protect West Coast's Beloved Orcas Before It's Too Late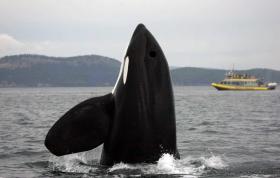 Thousands of people spoke out this week to ask for more protection for a highly endangered and beloved population of orcas, otherwise known as the Southern Resident killer whales who live in the Pacific Northwest.
Thanks to whale watching tours, and organizations like the Orca Network and Center for Whale Research, which keeps an official census of their population, we have had the opportunity to glimpse into their daily lives. We've been able to celebrate births, mourn deaths and root for the elders among them, like Granny, who has been around long enough to see how drastically our actions have changed their home and families.
In the 1960s, these orcas, who live in three distinct pods ( J, K and L), were believed to number at about 140, but brutal captures for public display caused their numbers to drop drastically.
By the early 1970s there were only an estimated 71 left. In 2005, they were listed as an endangered species, but even with federal protection they have yet to make a solid recovery. There are only a few more today than there were when they were listed.
Last year, the National Marine Fisheries Service (NMFS) announced a plan to designate an additional 9,000 miles along the West Coast as critical habitat for them, but it wouldn't make a final decision until next year, and if the plan moved forward, it wouldn't be implemented until 2018.
Continue reading at ENN affiliate, Care2.
Orca image credit: NOAA via WDFW