Reforesting Kilimanjaro could ease East Africa's severe water shortages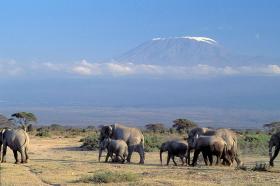 There is a need to reforest Africa's highest mountain to help protect vital water supplies that are under threat across large parts of East Africa, a UN Environment report urged today.
The loss of Mount Kilimanjaro's forests could trigger water crisis as rivers begin to dry up, notes the report, entitled Sustainable Mountain Development in East Africa in a Changing Climate, which was launched at the World Mountain Forum in Uganda today.
The report stresses that climate change has already destroyed 13,000 hectares of the mountain's forests since 1976 – equivalent to cutting off a year's supply of drinking water for one million people.
According to the UN Environment Programme (UNEP), Mt. Kilimanjaro's forests are a vital source of water for the surrounding towns and the wider region. Water from the mountain feeds one of Tanzania's largest rivers, the Pangani, providing food, fuel and building materials to much of East Africa.
Continue reading at United Nations News Centre
Photo courtesy of World Bank/Curt Carnemark