NOAA releases draft plans for proposed marine sanctuaries in Wisconsin and Maryland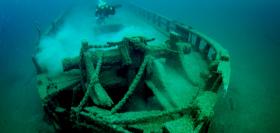 January 6, 2017 The public will be able to weigh in beginning Monday, January 9, on two proposals for new NOAA national marine sanctuaries in Wisconsin and Maryland that would protect nationally significant shipwrecks.
The sanctuaries were originally proposed to NOAA in 2014, and if created would be the first since 2000.
In Wisconsin, NOAA is proposing to designate a 1,075-square-mile area of Lake Michigan adjacent to Manitowoc, Sheboygan and Ozaukee counties that holds 37 known shipwrecks including Wisconsin's two oldest known shipwrecks discovered to date – the Gallinipper (1833) and the Home (1843). As many as 80 shipwrecks are still yet to be discovered in the proposed sanctuary. The ships here played critical roles in the settlement and development of the Midwest during the 19th and early 20th centuries.
Continue reading at NOAA.
Photo via NOAA.