Wildlife Safari Defends Its Elephant Car Wash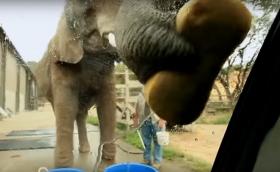 During the summer at the Wildlife Safari zoo in Oregon, visitors can pay $25 to have elephants "wash" their vehicles. The elephants use their trunks as sponge holders and hoses.
Wildlife Safari is "dedicated to conservation, education and research of native and exotic wildlife," according to its website. "It is our commitment to educate the public about the status of animals around the world." The elephant car wash is referred to as an "animal enrichment activity."
Since elephants don't naturally wash cars in the wild, many people, myself included, don't understand what is enriching or educational about this activity. Back in 2009, People for the Ethical Treatment of Animals (PETA) complained about it. In Defense of Animals (IDOA) ranked Wildlife Safari at No. 7 in its 2016 list of the 10 worst zoos for elephants (it's made their top 10 for five of the past six years). Over 88,000 Care2 members have signed a petition urging Wildlife Safari to end the elephant car wash.
Read more at Care2
Photo credit: BoydTV via YouTube