Increased Sea Ice Drift Puts Polar Bears on Faster Moving Treadmill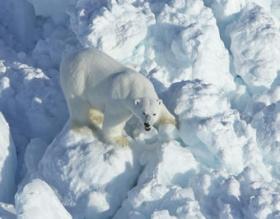 A new study led by the U.S. Geological Survey and the University of Wyoming found that increased westward ice drift in the Beaufort and Chukchi seas requires polar bears to expend more energy walking eastward on a faster moving "treadmill" of sea ice.
These findings represent the first assessment of the consequences of changing drift rates for polar bears; one of several previously unexplored effects of sea ice loss.
"Increased sea ice drift rates likely exacerbate the physiological stress due to reduced foraging opportunity already experienced by many polar bears in the warming Arctic," said Dr. George Durner, research ecologist with the USGS and lead author of the report, "adding yet another 'straw to the camel's back.'"
The results were derived from radio-tracking data of collared adult female polar bears in the Beaufort and Chukchi seas coupled with sea ice drift data from the National Snow and Ice Data Center. The data, comprising of over 77,000 bear locations and matching ice drift values, were collected during two periods with different sea ice characteristics, 1987-1998 and 1999-2013. "These were very intensive analyses requiring advanced computational capabilities," said Dr. Shannon Albeke a spatial ecologist with the Wyoming Geographic Information Science Center. "It was probably the most complicated analysis of my career."
Continue reading at USGS.
Photo via USGS.