Hawaiian Birds Rapidly Colonize Young Restoration Forest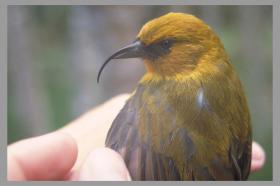 Forest birds on the island of Hawaii are responding positively to being restored in one of the largest, ongoing reforestation projects at Hakalau Forest National Wildlife Refuge, according to a new study released July 10 in the journal Restoration Ecology.
Serving as pollinators and seed dispersers, birds have an important role in ecosystem function and their presence in restoration areas can be a measure of success for conservation efforts.
"The study results show the birds are responding positively to restoration efforts faster than anyone thought possible," said U.S. Geological Survey researcher and the study's lead author Eben Paxton. "Birds are now in parts of the refuge where they weren't found 10 to 20 years ago."
Since the project's establishment, restoration efforts in the refuge have included reforestation with the large, fast growing native koa tree and, more recently, the planting of understory shrubs that provide a variety of food resources for birds.
Continue reading at USGS.
Photo via USGS.