Climate change jaw dropper: Great white shark could one day prowl B.C. waters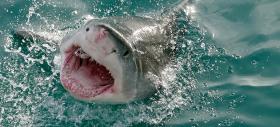 If ocean temperatures continue to climb, you're going to need a bigger boat.
Great white sharks could one day be swimming in British Columbia waters, according to William Cheung, associate professor at the Institute for the Oceans and Fisheries at UBC who studies the impact of climate change on marine ecosystems.
To mark Discovery Channel's hugely popular "Shark Week," which kicked off Sunday, Cheung explains how warmer seas could bring new sharks never before seen in B.C. waters.
With oceans warming, we do expect to see more tropical sharks in temperate waters. Based on my team's computer simulation modelling, we found that climate change will cause an expansion of the range of great white shark to northern temperature areas, including the offshore waters of the northeast Pacific, which includes B.C.
Continue reading at University of British Columbia.
Photo via University of British Columbia.