Research Dog Helps Scientists Save Endangered Carnivores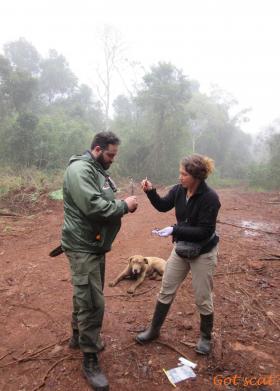 Scat-sniffing research dogs are helping scientists map out a plan to save reclusive jaguars, pumas, bush dogs and other endangered carnivores in the increasingly fragmented forests of northeastern Argentina, according to a new study from Washington University in St. Louis.
Published Aug. 25 in the online journal PLoS ONE, the study explores options for mitigating the impact of human encroachment on five predators who cling to survival in isolated pockets of protected forest surrounded by a mosaic of roadways, unprotected forest, plantations and pastures.
"The study details a least-cost plan for the development of a multispecies biological corridor that connects protected areas in the Upper Parana Atlantic Forest Region of Misiones, Argentina," said co-author Karen DeMatteo, a biology research scientist and lecturer in environmental studies in Arts & Sciences.
DeMatteo, who has spent 10 years working on the project, said completion of the corridor model will allow researchers and community leaders to begin working with property owners to establish the habitat corridors.
Read more at Washington University in St. Louis
Image: Karen DeMatteo and a provincial park guard at the Reserva de Biosferá Yabotí in Misiones, Argentina, collecting a sample of carnivore scat for DNA testing and analysis. (Credit: Courtesy of Karen DeMatteo)