Wildfire and Invasive Species Drives Increasing Size and Cost of Public Land Restoration Efforts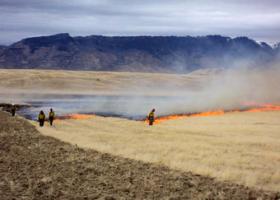 An examination of long-term data for lands managed by the Bureau of Land Management finds that land treatments in the southwestern United States are increasingly large, expensive and related to fire and invasive species control.
The study, recently published in Restoration Ecology, reveals an extensive legacy of land management decisions and provides new insight on strategies to increase future treatment efficacy in an extremely water-limited region.
The study's findings are based on the analysis of data collected for approximately 4,000 land treatments conducted on BLM lands across the Southwest between 1940 and 2010. The study was undertaken by researchers from Northern Arizona University and the U.S. Geological Survey using the Land Treatment Digital Library database.
"Examining long-term trends for BLM land treatments offers a good indication of what is happening in the Southwest broadly because the agency manages approximately a quarter of the land area in the region," said Stella Copeland, lead author and NAU Merriam-Powell Center post-doctoral scholar. "Our findings show that increased use and availability of large datasets can provide important insights about which treatments are most effective and how to contain costs."
Continue reading at USGS.
Photo via USGS.