Bycatch Responsible for Decline of New Zealand Sea Lion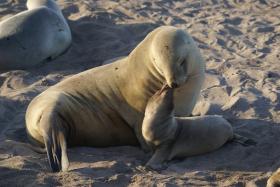 Getting caught in fishing nets is a major cause of death for the increasingly endangered New Zealand sea lion, according to new research from the University of Otago, Massey University and the University of Toronto.
Scientists from the three universities have analysed government data of the New Zealand sea lion population and fisheries bycatch to investigate the role commercial fishing has played in the near 50 per cent decline of the species.
Their conclusion, published in the international journal PNAS (Proceedings of the National Academy of Sciences of the United States of America), is that, despite measures since 2001 to protect New Zealand sea lions from being killed in fishing nets, commercial fishing continues to affect their numbers. The authors believe the current management of sea lion bycatch in the arrow squid fishery around the subantarctic Auckland Islands places the population at risk of extinction, because the New Zealand government assumes fishing is not a major threat to the species.
Lead author and population ecologist Dr Stefan Meyer, an Otago Department of Zoology PhD graduate, says the study presents a major breakthrough in understanding why New Zealand sea lions are declining at their main breeding colonies on the Auckland Islands.
Read more at University of Otago
Image: Getting caught in fishing nets is a major cause of death for the increasingly endangered New Zealand sea lion, according to new research from New Zealand's University of Otago, Massey University and the University of Toronto. (Credit: Louise Chilvers)