Researchers probe explosion in the number of pyrosomes off Alaska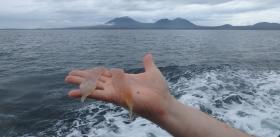 Researchers at NOAA's Alaska Fisheries Science Center are reporting a never-before-seen phenomenon in Alaska waters—an influx of strange organisms that resemble flattened, translucent sea pickles.
It may sound like déjà vu. A similar story made headlines along the West Coast last summer, but this is a new situation for Alaska.
Scientists call these jelly-like organisms pyrosomes. The creatures typically live in tropical waters around the world, occasionally emerging a little farther north in sub-tropical waters. But no one has ever recorded pyrosomes as far north as Alaska.
Pyrosomes were encountered in NOAA acoustic, surface, and bottom trawl surveys throughout the year from Kodiak to the offshore waters of southeastern Alaska.
Continue reading at NOAA (National Oceanic and Atmospheric Administration).
Photo via NOAA.