Protecting the Wild: Baylor Professor Helps to Minimize Recreation Disturbance to Wildlife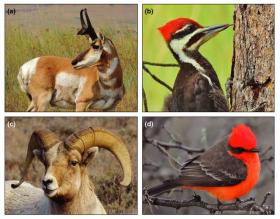 Nature and outdoor enthusiasts seek to enjoy recreational activities such as hiking, mountain biking, horseback riding and camping. However, sometimes appreciating nature's beauty comes at a cost to wildlife.
For example, hikers creating informal trails in wildlife habitats can negatively affect animals' reproduction, and nature area visitors feeding animals can cause dependency on humans for food, among other issues.
In a cover story published this week in the Ecological Society of America's premier journal,
, Kevin J. Gutzwiller, Ph.D., professor of biology in Baylor University's College of Arts & Sciences, and co-authors harnessed existing technology to help recreation ecologists and managers better understand and minimize those recreation disturbances to wildlife.
Lead author Gutzwiller, along with researchers Ashley L. D'Antonio of Oregon State University and Christopher A. Monz of Utah State University, combined techniques of two different fields to measure recreation disturbance distributed across large landscapes.
Read more at Baylor University
Image: These are examples of bird and mammal images often sought by visitors to parks and other wildlands: (a) pronghorn, (b) pileated woodpecker, (c) bighorn sheep, and (d) vermillion flycatcher. (Credit: Kevin J. Gutzwiller/Baylor University)