Use of Glow Sticks in Traps Greatly Increases Amphibian Captures in Study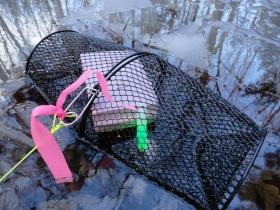 With amphibian populations declining around the world and funds to find the causes scarce, a team of Penn State researchers has shown that an unorthodox tactic will make it easier and therefore less expensive to capture adult salamanders and frogs.
The researchers demonstrated that glow sticks — cheap, self-contained, short-term light-sources — attract the creatures to traps set in vernal pools where they come to reproduce in the spring. The translucent plastic tubes contain isolated substances that, when combined, make light through chemiluminescence.
Often used for recreation, glow sticks are sometimes relied upon for light during military, police, fire or emergency operations. However, they have not been widely used in wildlife research and their appeal to amphibians is not well understood, according to David Miller, assistant professor of wildlife population ecology, College of Agricultural Sciences.
"This work is important because research funding is often limited, especially when we're talking about amphibians and reptiles compared to mammals or other charismatic species," he said. "With a warming climate, monitoring data will become only more important for informing conservation decisions. If we can find a way to improve our capture rate, it is going to mean less time, effort and expense to study amphibians."
Read more at Penn State
Image: Using glow sticks in traps, researchers found that spotted salamanders were three times more likely to be captured in population surveys. (Credit: David Munoz, Penn State)