York University research shows insecticide-laden seeds can disorient migrating songbirds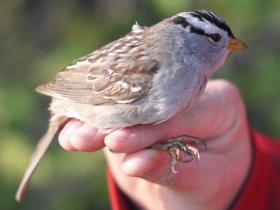 Songbirds exposed to widely used insecticides during migration pit stops on farmland could lose significant body weight and become disoriented, research by York University and the University of Saskatchewan (U. of S.) has found.
The researchers exposed white-crowned sparrows on spring migration to realistic doses of two different insecticides – imidacloprid, a neonicotinoid, and chlorpyrifos, an organophosphate – to see the effects on migratory activity, orientation and body mass.
"What we found is that the sparrows given imidacloprid exhibited a rapid decline in their fat stores and body mass of up to 25 per cent, and even at low doses both chemicals caused birds to become disoriented," said York U biology Professor Bridget Stutchbury.
The doses of insecticides given to the songbirds were the equivalent of only four tiny imidacloprid-treated canola seeds per day, or eight chlorpyrifos granules a day, for three days to simulate a stopover event.
Continue reading at York University.
Photo via York University.