More roads in grizzly bear habitat means more deaths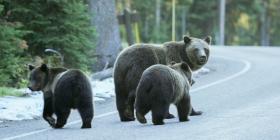 It's simple math, says a University of Alberta conservation biologist. More roads equals fewer grizzly bears.
In a recent study examining a non-invasive DNA (hair collection) dataset of grizzly bear activity in British Columbia, Clayton Lamb and his colleagues determined what scientists have long suspected: higher road density leads to lower grizzly bear density—a critical problem for a species still rebounding from a long period of human persecution.
"The problem with grizzly bears and roads is a North America-wide issue. This is the first study that strongly links roads to decreased grizzly bear density," said Lamb, currently completing his PhD with U of A conservation biologist Stan Boutin.
"Not only do bears die near roads, bears also avoid these areas, making many habitats with roads through them less effective. By closing roads, we can reduce the negative impact in a lot of ways. We can't turn roads back into forest tomorrow, so the best thing we can do right now is to close them. The effects are immediate."
Continue reading at University of Alberta.
Image via University of Alberta.